10 April 2018
Helical Technology wins the MTU – Rolls-Royce Supplier Award
We are pleased to announce that Helical Technology is the Silver prize-winner of the Top Supplier of Finished Parts for 2017 category.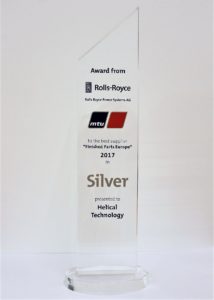 Rolls-Royce Power Systems has presented Supplier Awards to its best vendors in 2017, including – for the first time – bronze, silver and gold awards in Friedrichshafen, Germany. A total of 12 suppliers won accolades for their high standards of quality in the following categories: EU Finished Parts, US Finished Parts and Best Semi-Finished Parts Worldwide.
To receive a Supplier Award, vendors have to secure top points in the categories of Quality, Cost, Delivery Reliability, Commitment to Protecting the Environment, and Integrity of Conduct. "These awards are one way of motivating our suppliers to continue to provide outstanding service in future," said Alexander Dangel. "To be fit for the future, we need partners we can rely on and who have the same attitude to quality as we do."
Helical has been awarded for its continued commitment to Quality and On-Time Delivery in Full to MTU Germany and the USA. This is the second Rolls-Royce Supplier Award won by our Rotators Division in three years.
In an ever changing market place to achieve this accolade is a reflection of the true dedication of everyone concerned.